Automatic Door Openers
Open Sesame Automatic Door Openers
Open Sesame door openers are highly reliable, complete systems – and made in the U.S.A. Made with the highest quality materials available: permanently lubricated steel gears, steel housing, and commercial-grade door release hardware.
HAND ASSEMBLED
Professional grade Open Sesame door opener systems are assembled in the USA. After assembly, your door opener is inspected and thoroughly tested by experts at the Open Sesame factory ensuring the high performance of all components.
LOW VOLTAGE WIRING
Most installations take less than 2 hours – far less time and labor than most other door openers. Plus there's no need to hire an electrician, since the Open Sesame door opener is a safe low voltage device. Just plug in the 24 volt AC adapter to the nearest (within 30 ft) wall outlet, plug in the door opener to the small wall mounted junction box, and you're set.
ELECTRIC STRIKE
The Open Sesame system incorporates the use of a door release mechanism installed in the door frame. Similar to getting "buzzed in" an apartment building, when activated, the electric strike releases the door latch and allows the electric operator to open the door.
Residential – Model 133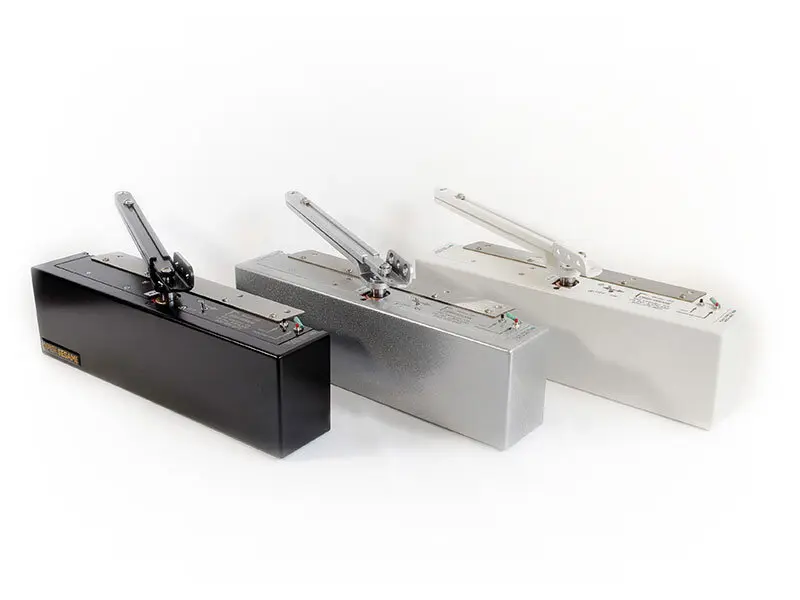 The Model 133 automatic door opening system enables complete independence when entering and exiting a residential or public / light commercial door. The Model 133 is designed for any free swinging door like residential front doors, office doors, apartment doors, bathroom doors, etc. This professional grade system includes an electric strike to unlatch a locked door, then opens, pauses and closes it – all automatically.
Commercial – Model 233
The Model 233 automatic door opening system is perfect for use in commercial applications like storefronts, schools, apartment lobby doors, screen doors, restrooms or any application where the unit replaces a door closer. When activated by pushpad or remote control the opener will go through the open-pause-close cycle. The system is easy to install and low voltage which means no electrician is necessary for wiring. The units take up a small footprint and cost less than most other commercial units.

When the door is opened manually the door will power close as if it were operated by a spring or pneumatic closer. The Model 233 unit also includes a variable clutch which allows modification of the closing speed depending on need and wind conditions.