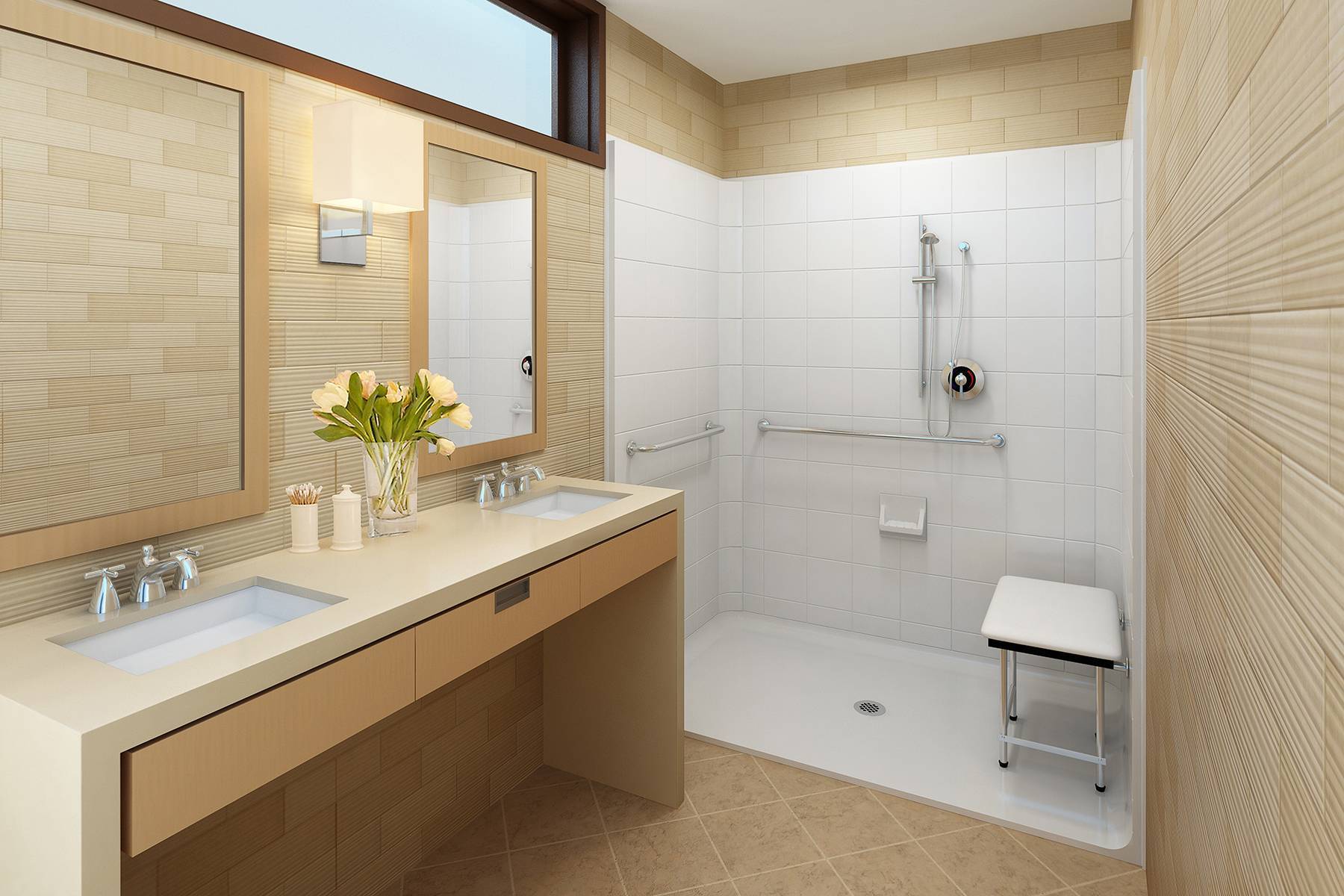 Accessible Bathrooms
Barrier Free Accessible Bathrooms and Shower Solutions
EZ Mobility Solutions offers a variety of mobility products to help you stay safe in your restroom and bathing areas. Whether you require a simple grab bar for balance assistance, or an entire bathroom remodel, we've got you covered.
Our BestBath walk-in showers are both elegant and accessibility-friendly, meeting ADA and ANSI A-B requirements.
We can also modify existing tubs with TubcuT for a fraction of the cost of a remodel, transitioning them to a step-in shower.
To learn more about TubcuT Tubs, Lift Toilets or BestBath Roll-In Shower options and customization for your home, please contact us for a free in-home consultation.
Walk-in Showers
While it may not offer the same level of accessibility as a barrier-free shower, a walk-in or curbed shower provides several benefits for individuals with mobility challenges. The curb acts as a physical barrier that helps contain water within the shower area, preventing it from spreading onto the bathroom floor. This containment reduces the risk of slips and falls caused by wet floors, providing a safer environment for individuals who may have difficulty maintaining balance or stability.
Moreover, curbed showers often come with additional safety features such as grab bars and non-slip flooring. These features offer support and stability, assisting individuals with mobility challenges during showering. The presence of a curb can also serve as a visual and tactile indicator, helping individuals with limited vision or spatial awareness navigate the shower area more confidently. Additionally, curbed showers can be equipped with various assistive devices such as shower seats or handheld showerheads, further enhancing accessibility and convenience for the mobility challenged.
Roll-in Showers
Make your bathroom stylish and safe with a new roll-in shower. Also known as a barrier-free, curb-less, or zero-threshold shower, a roll-in shower is designed to provide easy and safe access for individuals with mobility challenges or disabilities. Unlike traditional showers that have a step or curb at the entrance, a barrier-free shower provides an ultra-low or zero entry, eliminating any obstacles that may impede entry or exit. This design allows individuals to walk or roll into the shower without the need to navigate over a barrier, making it accessible for people using wheelchairs, walkers, or other mobility aids.
In addition to its accessibility benefits, a barrier-free shower offers a sleek and modern aesthetic to any bathroom. The absence of a step creates a seamless transition from the bathroom floor to the shower area, giving the space a spacious and open feel. Typically featuring slip-resistant flooring as well as grab bars to enhance safety, additional options like wall mounted shower benches, hand showers, or body sprayers can add an elegant touch. The design versatility of barrier-free showers allows for customization, accommodating various styles and preferences while ensuring accessibility for all individuals.
Tub Cutouts
Walk-in Tubs
Bath Accessories